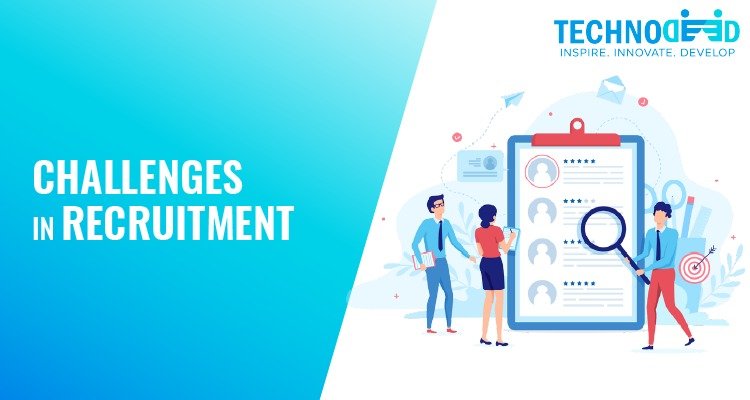 Challenges in Recruitment
Recruitment is the core of every business' success for it is solely on the able shoulders of a recruiter to find the diamonds who have the skills to make any business shine. Thus, as much as it is exciting, challenges in recruitment also one of the greatest responsibilities any employee can take. The role of a recruiter starts with screening of the best applicants out of many applicants, which in itself is a tough job. And this role might turn out to be even tougher at times when there is a dearth of the right skilled candidates for a vacant position. From the recruitment process getting outdated to associates who support in the process, the reasons could be many or any.
Challenges in Recruitment
Especially, in the ever-changing world, just like businesses the workforce is constantly changing due to advancing technologies and new job roles. Thus, it is of utmost importance that a recruiter stays updated on the changing environment of jobs to take on the challenges that might arise in hiring like a pro. Staying ahead of fellow recruiters will ensure that one will lay their hands on the best applicants and thus hire them for their respective organisations.
Listed below are some of the key challenges, overcoming which turns something as tough as recruitment into a cakewalk.
1. UNLIMITED APPLICANTS WITH LIMITED SKILLS
Based on where one is looking at potential hirings, it may turn out that there are free-flowing resumes with limited or no skills to serve the task from the advertised job position. Thus, it is important that a recruiter advertises in a place and manner that is best for the vacant position. Most of the time, recruiters end up advertising on platforms with a wide audience and thus end up receiving applications from candidates who have little or almost no skills for the advertised job. It is pivotal that a clear job description is part of any advertisement, so applicants know it right then and there before applying. This will ensure that at least people with the right skills are applying for the position.
2. LOSING THE RIGHT CANDIDATE TO OTHER RECRUITERS
In the good old days of recruitment, recruiters were treated as the ones who have things in control. However, with the advent of digital job portals, the scenario has changed. Now, applicants interview a recruiter in the same manner a recruiter does. So, it becomes very important that a recruiter has all the answers that might attract a star candidate to join a particular organisation. And these answers include multiple things such as paid time off, bonuses, flexibility in working hours and much more. And to top it all, competitive salaries.
3. PROVIDING A NOT SO LASTING INTERVIEW EXPERIENCE
The adage, "First impression is the last impression" goes as much for the recruitment business as anywhere else. It is key to hiring a right candidate that recruiters are able to hold up a lasting impression of the organization in front of the prospective candidate. From talking about the office culture to working hours and so on and so forth, one needs to ensure that the candidate doesn't leave with a wrong impression of the organization. For if one does, there is a strong chance that it might get passed on to other prospective candidates.
4. PROCRASTINATION IN THE HIRING PROCESS
All good things happen in the right time, but the right time doesn't stay forever. And this goes for recruitment too. Any delay in finalizing a hiring might turn out to be a huge blow to an organization as the meticulously selected candidate through rounds of interviews might just settle for some other offer. So, a recruiter must ensure that all the other people involved in the hiring process are respectful of the fact that a candidate is not just anyone but the one who is going to bring money to the organisation as an integral part, and thus ensure smooth hiring.
5. MISSING THE BRAND IDENTITY
In a world of identicals, identity matters. The right identity for any brand makes it visible among applicants which eases the process comparatively. Applicants with prior knowledge about an organisation tend to believe more in it and consider it with more seriousness while applying for a job in the same. While building a brand's identity, one should look at using all the available resources in hand, primarily its existing workforce. For example, genuine growth stories of employees could be a nice way to tell the world that the brand is one that values its workforce. Coming to platforms, digital should be top of the line as candidates search online for anything before really going for it.
EASE IN RECRUITING PROCESS WITH STAFFING AND HIRING CONSULTANTS
Hiring new candidates is an in-depth and time taking endeavour. Once an established process comes into play, things will work in a smooth way. Ensure that the right efforts go in to formulate a process even if that takes time. The effective and smart way to recruit the best talent is through hiring consultancies and recruitment service providers like Technodeed, where you can avail IT recruitment, staffing services and HR consulting for a smooth recruitment process that ensures you returns on your investment. Since workforce is what defines your brand and business growth, it is important to make a wise choice in human resources with the right partner accelerating your hiring process and satisfying your requirements. Thus, choose Technodeed to get the best profiles and candidates for every job requirement that your business might have.